Black Gate Morris is a mixed Cotswold Morris side based in Newcastle Upon Tyne. Launched in 2018.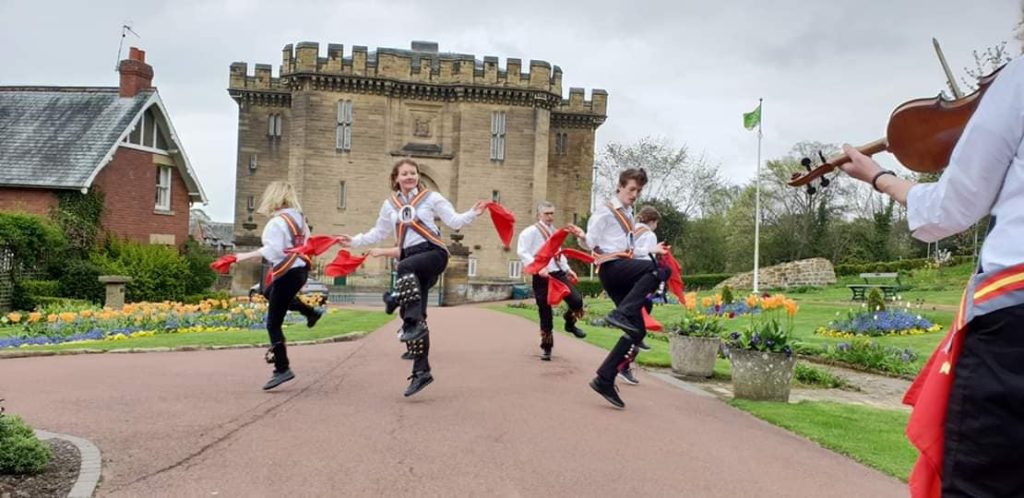 ---
Bollin Morris are a mixed Morris team performing Border style dances, based at the Spread Eagle in Lymm, Cheshire. They perform some traditional dances from the counties that border Wales, some dances created by other teams and some choreographed by themselves. The team was first formed in 1976 as a revival of the Altrincham Morris team.
The costumes are mainly blues and greens to represent the river Bollin. We were one of the first mixed sides in the country, and definitely the first to use blue face paint back in 2010.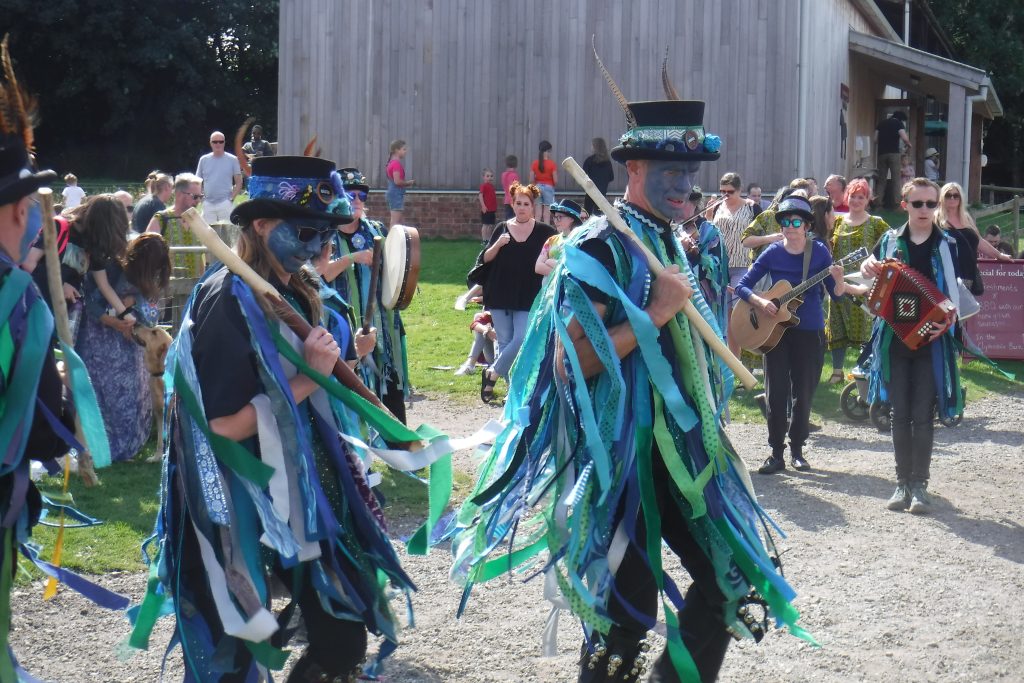 ---
Harrogate-based team who dance in their own style with a unique kit. The band is made up of melodeons, concertina, bass curtal, recorder and percussion.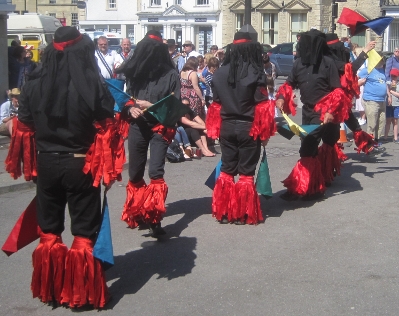 ---
The Hill Millies are a Women's Cotswold Morris Dancing side based in Hebden Bridge, West Yorkshire, formed more than 16 years ago, starting off as a bet with the then landlord of the Fox and Goose pub in Hebden Bridge. They dance with hankies, sticks, dusters, and on occasion a mop or two to the accompaniment of a talented group of fiddle players.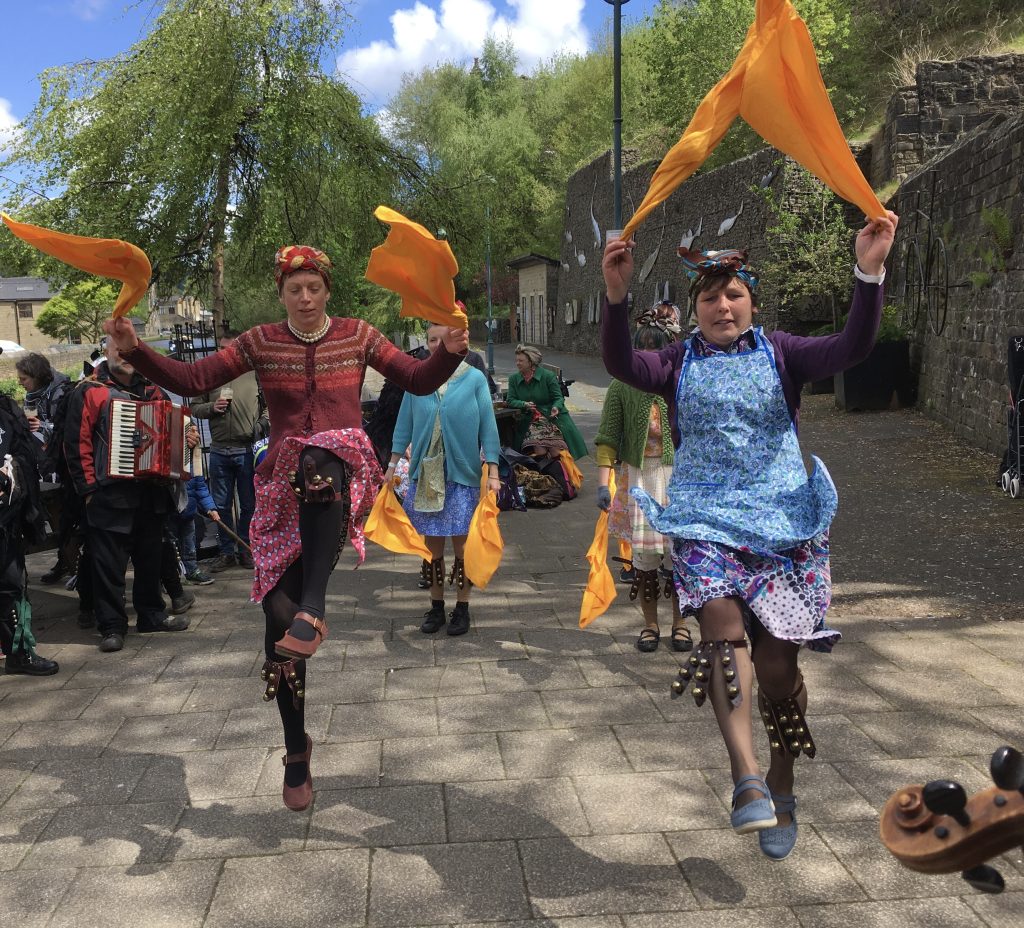 ---
The Lancashire Wallopers clog step team was born out of the teaching of the legendary Sam Sherry, who spent most of his working life as a step & acrobatic dancer in the music halls & variety theatres. The Wallopers perform, in various lively & entertaining routines, the steps of Sam Sherry and other famous Lancashire clog dancers. (Incidentally, the team name is derived from the old Lancashire term 'clog walloper'…as in one who wallops the floor with his/her clogs!)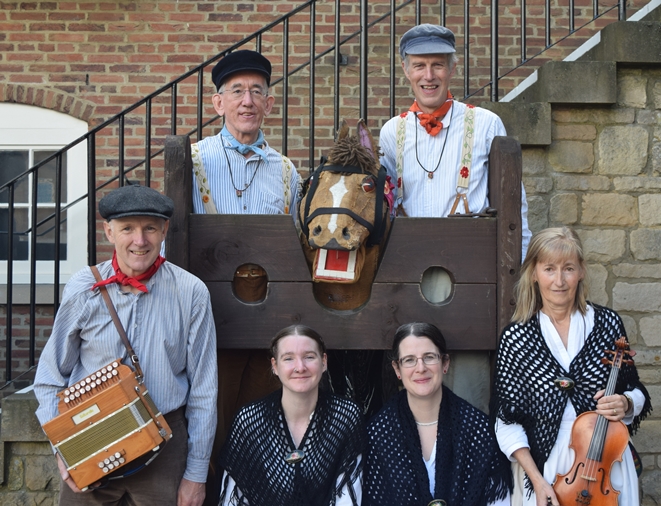 ---
Liberty Hill North West Morris
A relatively new women's Morris Side based in the Sheffield and Nottinghamshire areas.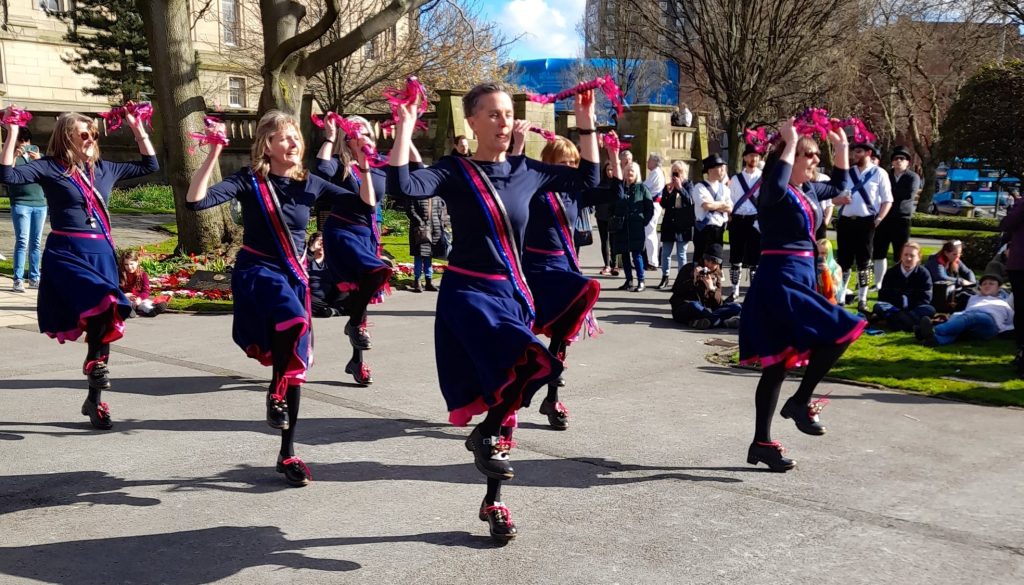 ---
Mind the Step Appalachian Dancers
Mind the Step, formed in 1990, are a lively Appalachian dance team from Knutsford, Cheshire. They perform their own choreographed dances to the accompaniment of Bluegrass music played by their excellent fiddle player. The dance form originates in English, Irish and Scottish clogging and stepping styles as danced by the immigrants that settled in the Appalachian Mountain regions of North America, who added their own steps to make it the style it is today.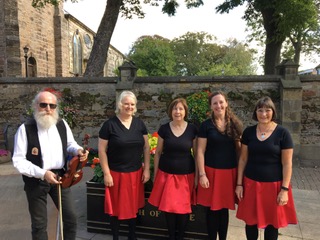 ---
Rivington Morris was founded in Bolton in 1977. They are proud to be based in the North West, to be dancing North West Morris and thus part of continuing local traditions.
Over their 45 year history Rivington have attended many Festivals including previous Todfests, Whitby, Sidmouth, Shrewsbury, Evesham, Ely, Towersey and Wimborne; all of which they have thoroughly enjoyed but they are equally happy to attend their local carnival processions dancing amongst the carnival floats and rose queens, again supporting local customs/traditions.
Rivington's colours are red, purple and white and their swirling red skirts and purple and red beribboned sticks assist in providing a bright colourful display.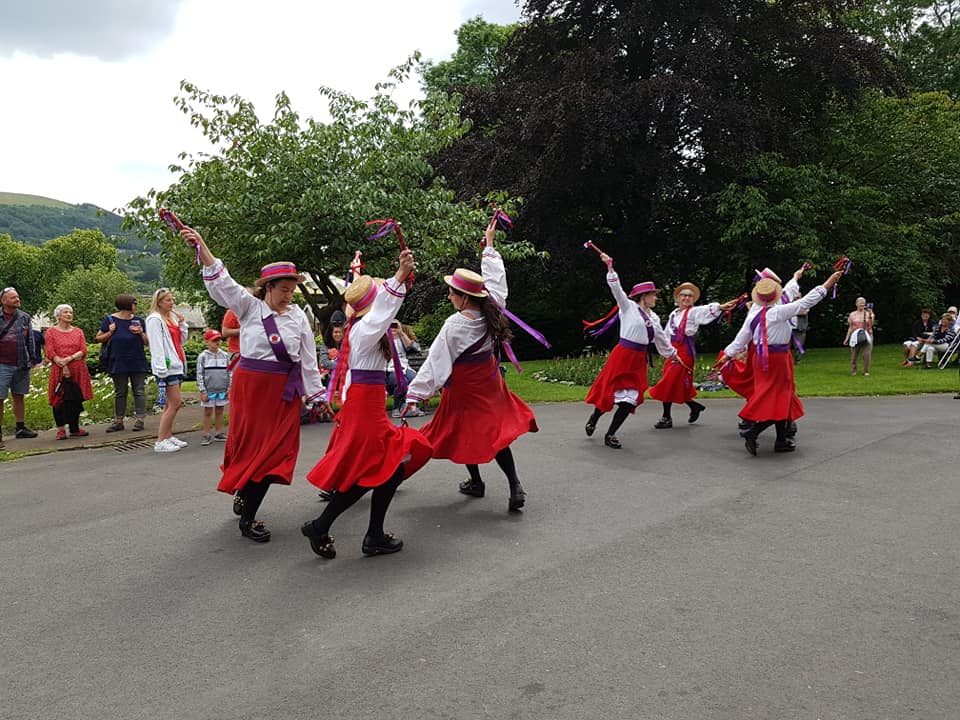 ---
Shrewsbury Morris with Septimus the Giant
Shrewsbury Morris are three teams who were formed in 1976: The Shrewsbury Lasses, The Bull & Pump Morris Men and Shrewsbury Clog.
In emerging from the pandemic the men and women have also joined together to create a mixed repertoire of dances which are mostly self-penned.
The Shrewsbury Lasses are instantly recognisable by their brightly coloured pinafore dresses and often the flash of a garter. They dance in a range of styles including handkerchief, short stick and garland dances. Their repertoire includes several self-composed dances in the traditional style as well as a selection of dances from around the country.
Shrewsbury Bull & Pump Morris Men dance in green waistcoats, white shirts, brown breeches and green socks, apparently taking their inspiration from the Shropshire fields and hedgerows in spring. They dance vigorous stick dances based on traditions from the Welsh Borders, as well as some more traditional Cotswold Morris and dances.
Shrewsbury Clog have developed a unique style of performance featuring clog and step dances from across the country, involving a range of styles and music.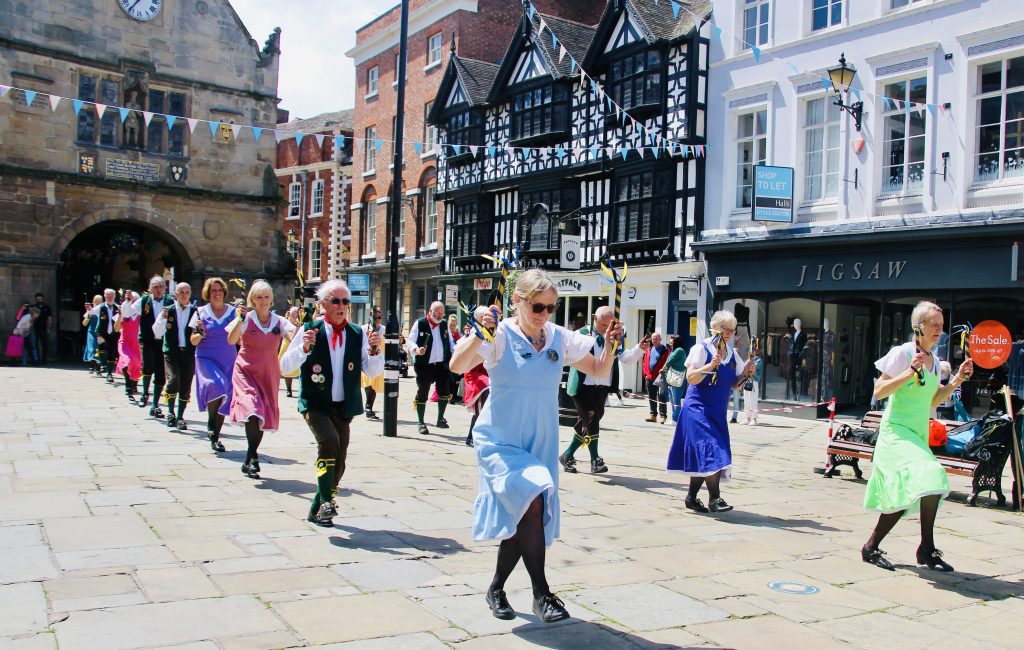 Septimus the Shrewsbury Giant
In 2019, with funding from Arts Council England and Shrewsbury Town Council, Shrewsbury Morris worked in partnership with Thingumajig Theatre to build Septimus the Giant Shrewsbury Cobbler. He is accompanied by colourful flags, dances and music and provides quite a spectacle.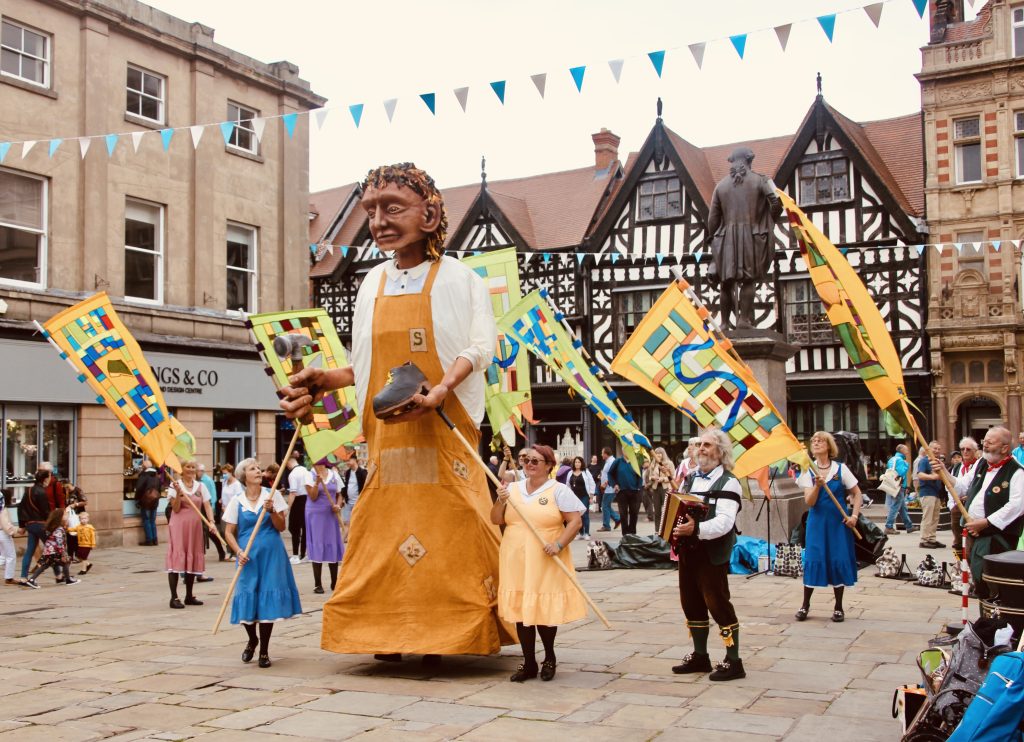 ---
A mixed dance team performing in the North-West Morris tradition. They are based in the West Yorkshire mill town of Sowerby Bridge in the heart of the South Pennines.
The team was originally formed as an all-male side in 1979 following the success of the Sowerby Bridge Rushbearing Festival. In 2011, the team was revived as a mixed side with a view to performing at that year's Rushbearing. The team perform all four of the their original dances from the early 1980s, as well as two traditional dances from the now sadly defunct Colne Royal Morris Men. They have also developed two original dances, the Jubilee Diamond and the Rushcart Dance.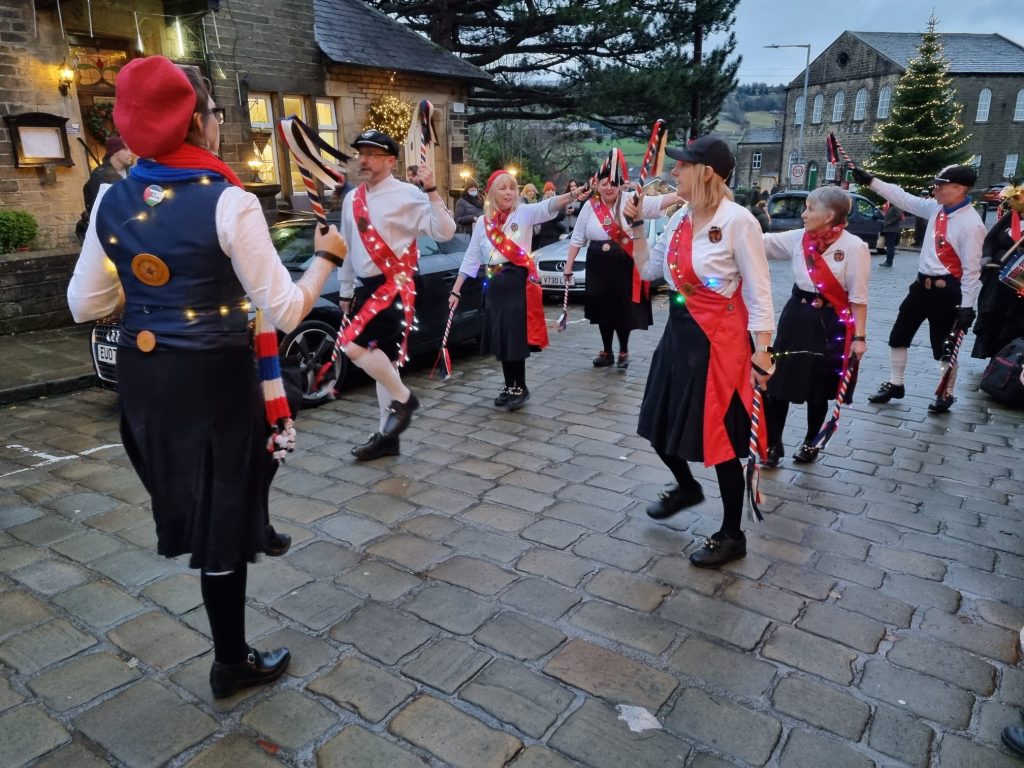 ---
A mixed border morris side who like dancing, waving big sticks about and yelling. They sing as well. They were formed in 2006 and ages range from 6 to 71.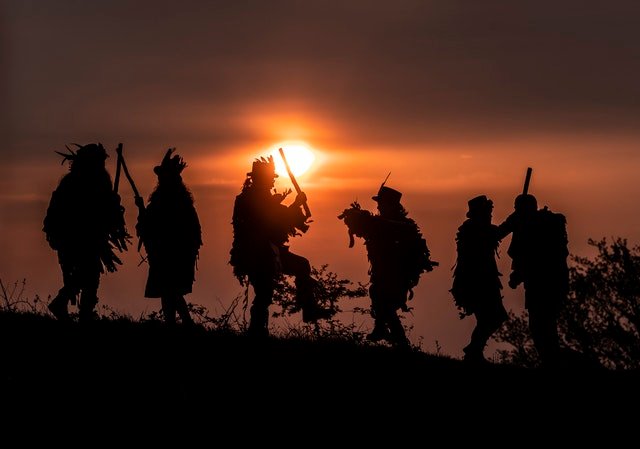 ---
A familiar sight in distinctive 'whites' with green baldrics and straw hats at regional and national folk festivals, and other local events, White Rose dance the South Midlands (or Cotswold) tradition 'Up North' and have also performed in Sweden, Jersey, Provence, Romania and, most recently (2019), in Germany at the Aachen Festival.