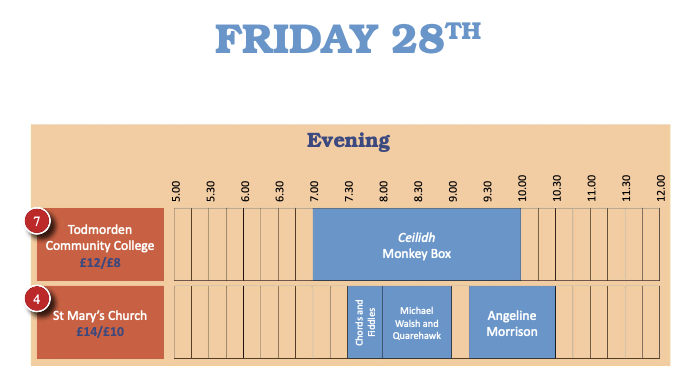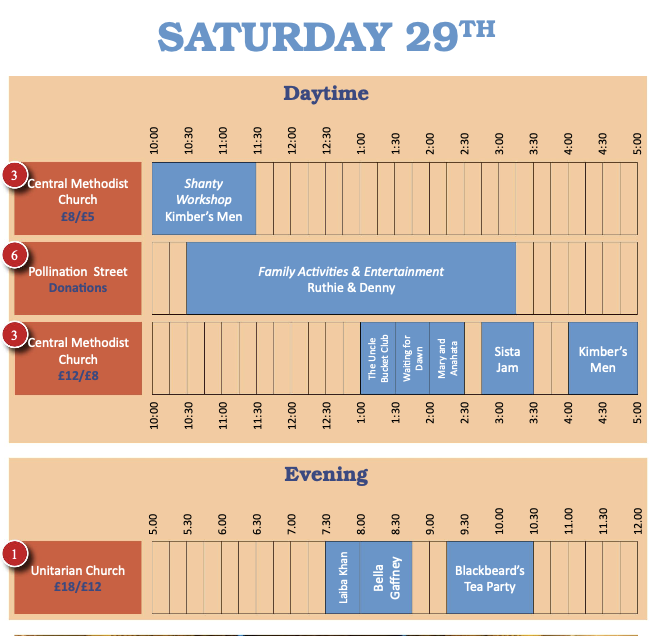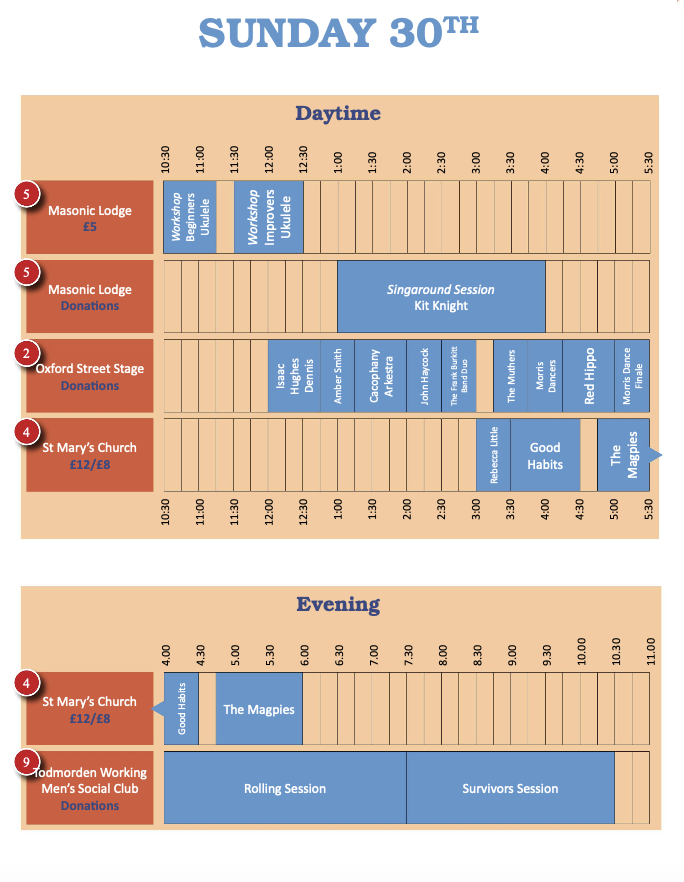 Sea-shanties will be given a bombastic rock edge, and folk instrumentals will become late-night floor-fillers when this raucous bunch of reprobates hit the stage at our Saturday night concert. They have dirt under their fingernails and a twinkle in their eyes, and you can expect fantastic musicianship, playful choreography and an unstoppable urge to move your body.
Two drummers, electric guitars, fiddle, melodeon and 4-part harmonies combine to create music that is drenched in tradition, but filtered through a kaleidoscope of modern rock and pop.
Established as the go-to band for late-night folkin' shenanigans, Blackbeard's Tea Party have played memorable sets at Glastonbury, Cambridge Folk Festival, Fairport's Cropredy Convention, The Rainforest World Music Festival in Borneo and many more.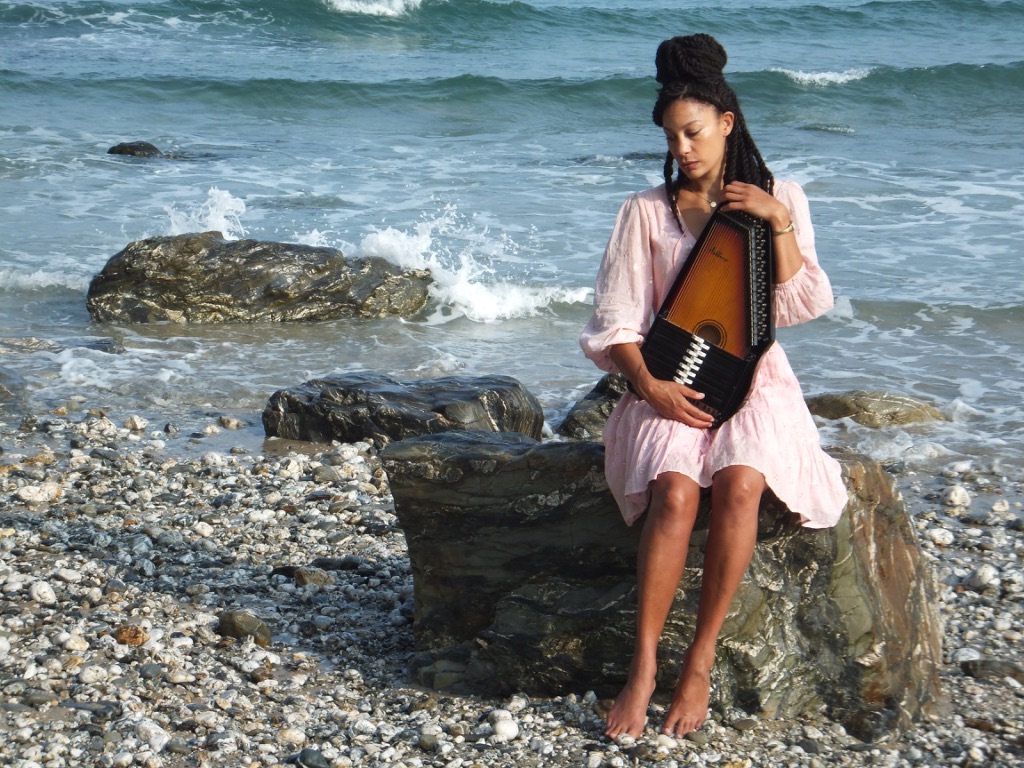 Angeline Morrison is a singer, multi-instrumentalist and songwriter who explores traditional song with a deep love, respect and curiosity. Angeline mostly makes music in the genres of wyrd folk and psych folk, her work infused with elements of soul music, literature, '60s beat pop sounds, folklore, myth and the supernatural.
With a feral approach, a handmade sonic aesthetic and a belief in the importance of tenderness, Angeline's original compositions and re-stitchings of traditional songs focus on storytelling and the small things that often go unnoticed. Sounds like solitude, memory, nostalgia, a rainy walk amongst trees…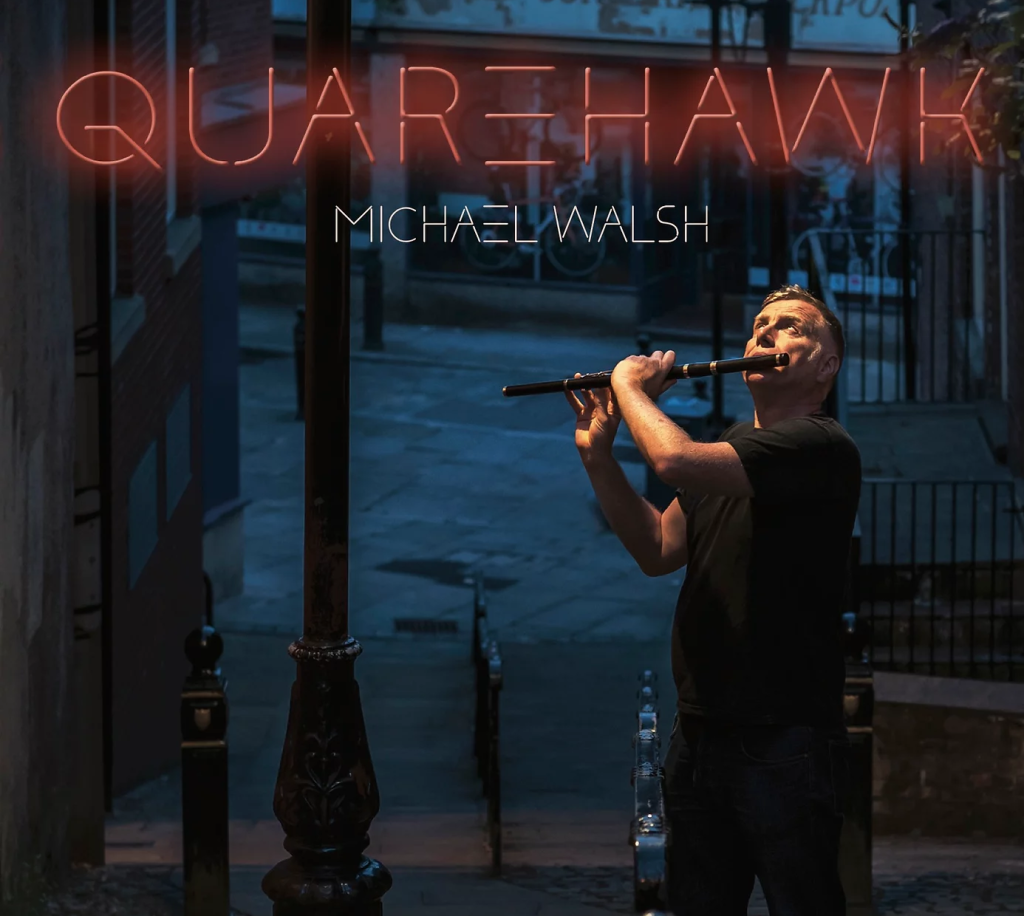 Born in Manchester and raised in Stockport, Micheal Walsh grew up learning Sligo style flute playing from Marian Egan & Tony Ryan.
His new album, Quarehawk, was released in August 2019 and launched at the Cambridge Folk Festival. Recorded in Manchester with Michael McGoldrick and in Sheffield with Tom Wright and Sam Proctor, the album is a mix of Irish and English influences as well the Asturian music he learned during his doctoral research. The album showcases repertoire learned growing up in the Manchester Irish community and documents the emotions he went through after his father died tragically during the recording.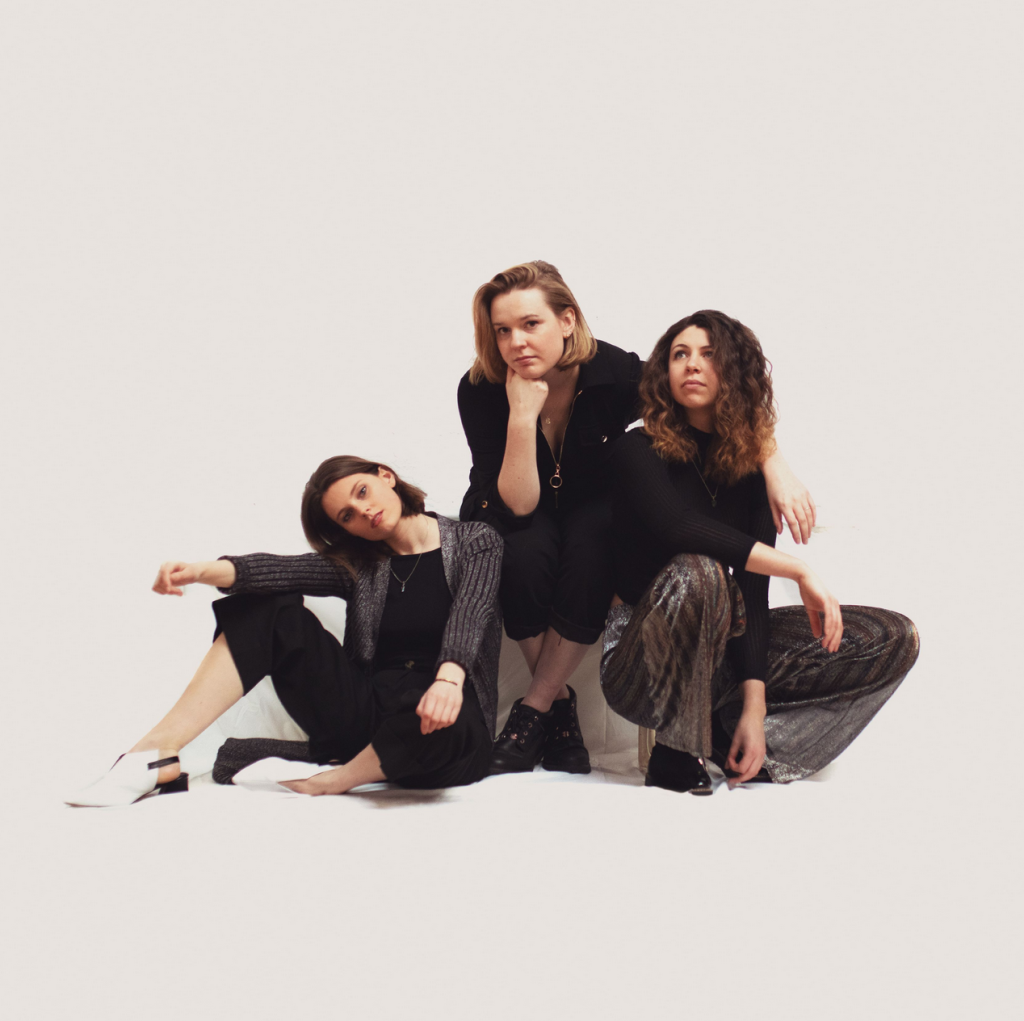 All under 30, Bella Gaffney, Holly Brandon and latest arrival Kate Griffin are one of the most exciting acts on the roots scene, combining first class musicianship with sublime harmonies and increasingly impressive song and tune writing.
A fervent thread of feminism runs through the second album from this Yorkshire-based trio, Undertow, and indeed the three are champions of gender equality in the music industry. Here are themes of sisterhood and solidarity, tricky relationships and rueful reflection as they seamlessly switch between Anglo and American roots – traversing traditional folk, bluegrass, Celtic and Appalachian trails.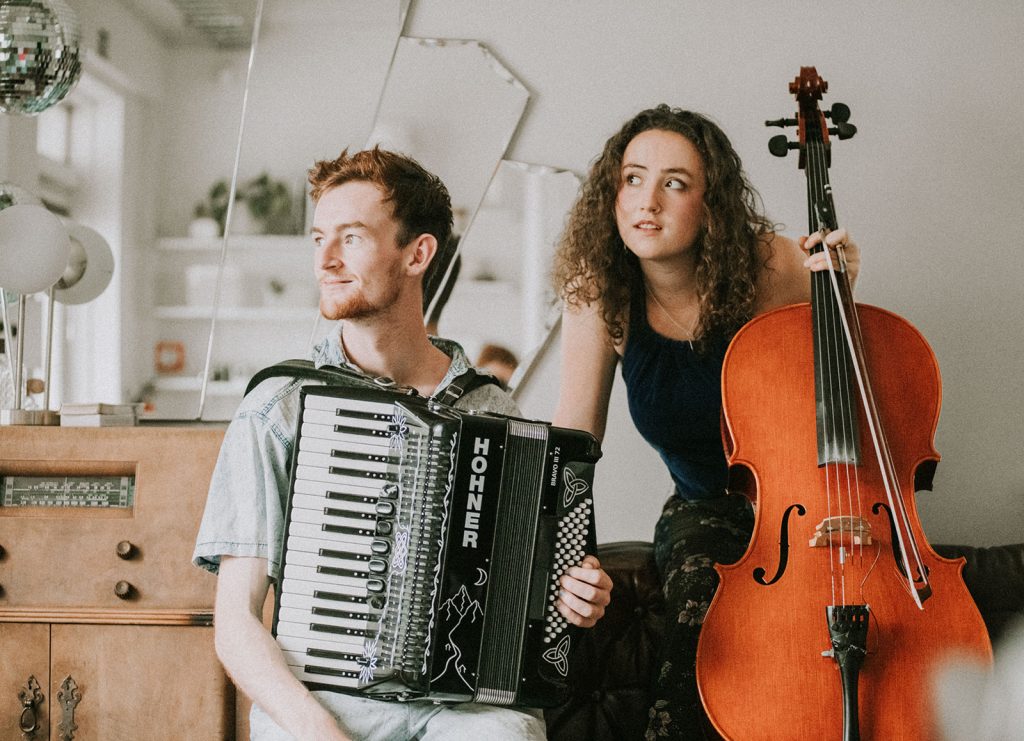 Good Habits are an award-winning UK folk duo forged on the other side of the globe.
Composed of Bonnie Schwarz (cello + vocals) and Pete Shaw (accordion), the pair mix vivid storytelling with eclectic sounds, drawing on their diverse musical tastes and weaving them into an action-packed narrative of folky goodness. After a pandemic spent happily stranded in New Zealand, they've returned to the UK to spread their joyous music throughout Europe.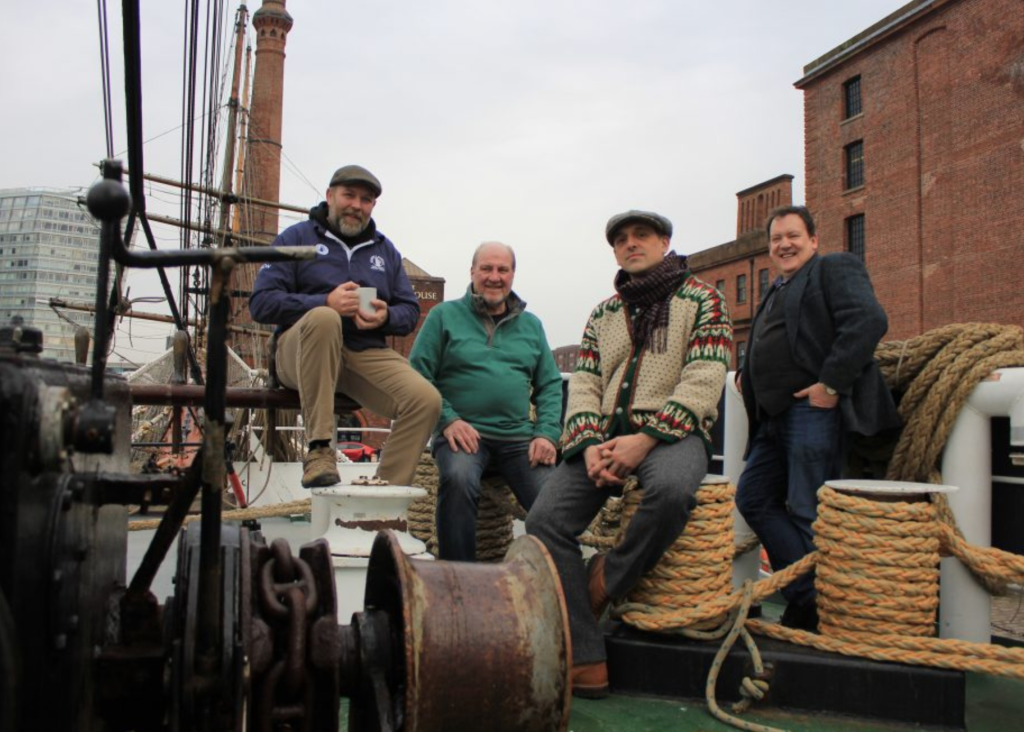 Audiences everywhere, rave over the harmonies of Kimber's Men. They have appeared at Festivals in Ostende, Appingedam, Portmagee, Portsoy, Fano in Denmark, and all over the UK. Featured twice on Sunday brunch for Channel 4, they also starred in the BBC2 and BBC4 production of Sea Songs, with Gareth Malone; the latter being the most viewed programme of the year, on BBC 4.
Kimber's Men possess probably the finest bass singer on the British folk scene today, in John Bromley. John has been singing folk songs since he was sixteen and has sung in several folk bands and is a solo artist. John plays guitar, whistle and bodhran.
Neil Kimber has been performing and singing since the late sixties and has a massive repertoire of songs at his disposal, he plays guitar and is the only real sailor amongst us. Neil and Ros Kimber composed the wonderful song 'Don't Take The Heroes', which is now being sung by many shanty bands all over the world, and describes the aftermath of the Penlee lifeboat disaster.'
Kimber's men are lucky to have long standing member Gareth Scott. He has a powerful and bluesy voice and is an accomplished guitarist, bringing another dimension to the sound they produce. Not forgetting Steve Smith our recent stowaway, who, as sound engineer and multi-instrumentalist, completes the group with his high harmonies.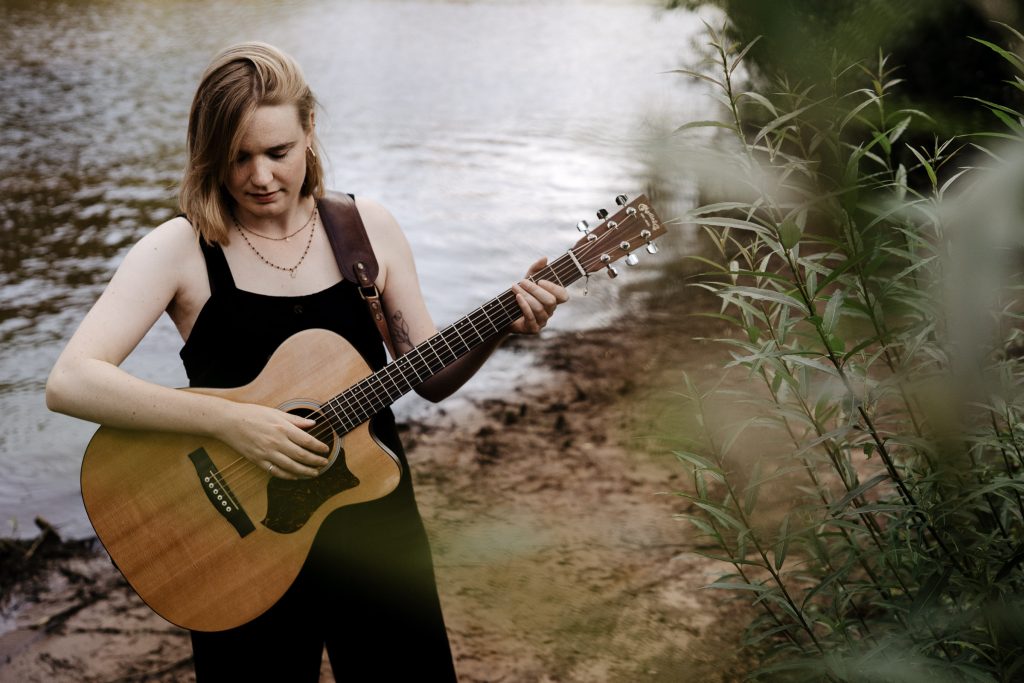 2016 Celtic Connections Danny Kyle Award winner Bella Gaffney writes folk inspired songs which she performs along with her own original arrangements of traditional pieces. 2023 will see the release of Bella's new album which is inspired by connections made over the lockdown period. Her latest singles, 'Fair and Tender Ladies' (a duet with Sam Kelly) and 'Blood in the Earth' were released in 2022 to great acclaim along with airplay on BBC radio 2. Bella is also part of sought after folk band The Magpies ('effervescent' The Sunday Times).
'Great singer, great guitarist, really interesting songwriter'
Mike Harding
Cacophany Arkestra return in 2023! Formed in 2014 from a group of talented musicians and carnival artists, they perform a high energy mix of Soca & Calypso tunes blended with other musical styles- Ska, Jazz & Afro-beat. The band plays carnivals, processions, clubs & anything in between either on a truck, on foot or on stage. This year sees them perform procession style on our Outdoor Stage.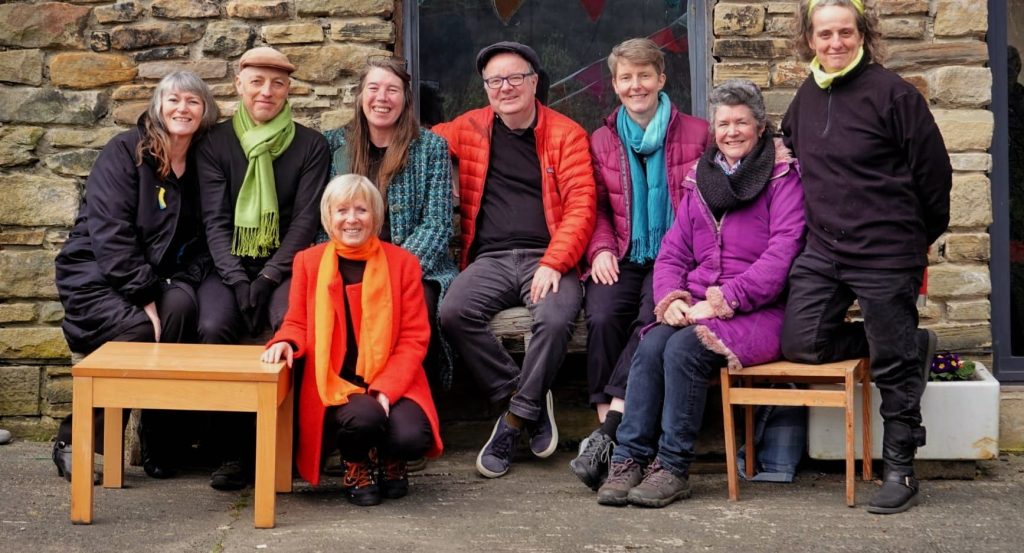 Everyone in Waiting for Dawn has sung in different groups for several years. They bring their varied experience to a tight, 8 voice form which allows them to stretch acapella singing in different ways. Forming at a tricky moment, in early 2020, just at the pandemic hit, they had one performance in February 2020, then everything shut down. But they stuck together, meeting in strange outdoor places and singing to fuel their sense of being. They sing to touch your heart and encourage you to stand strong to create a new dawn for our world. Based in West Yorkshire, they sing a varied mix of of tunes – from UK folk, through Georgian, South African and Maori songs to carefully chosen 70s and 80s classics. They sing the songs that speak to them.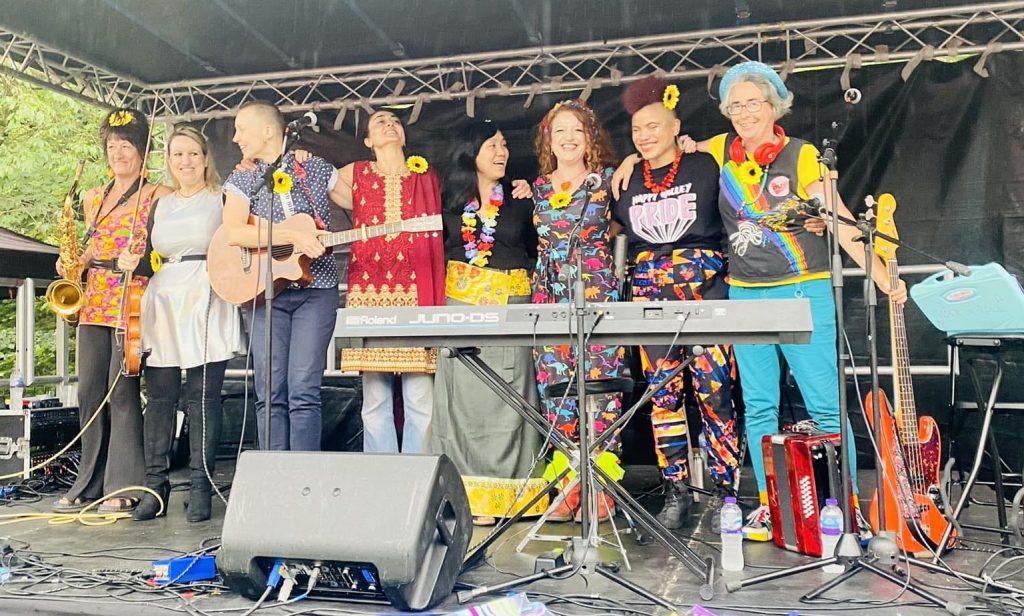 Sista Jam are a brand new, beautiful melting pot of female musicians, singers and songwriters from Calderdale. Their stunning original songs and inventive takes on classic tunes feature lush harmonies, infectious melodies and a unique, exquisitely feminine sound that will make you both reflect with a gentle sigh and dance your socks off!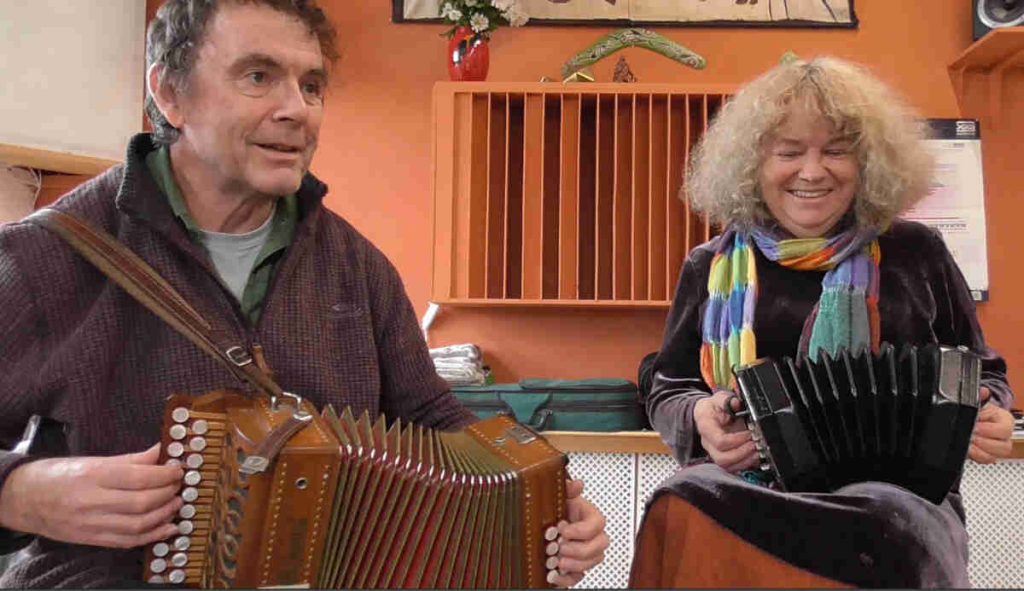 Mary Humphreys and Anahata, now living West Yorkshire, are known nationally for their research into historical manuscript sources. They have unearthed and brought back to vivid life some rare gems of English song and dance music. Their repertoire has a particular emphasis on the East Anglian region, where they lived for many years.
They have come out of retirement since the pandemic to perform specially for Todmorden Festival. For this concert Mary will sing and play English concertina and Anahata will play Anglo concertina and melodeons.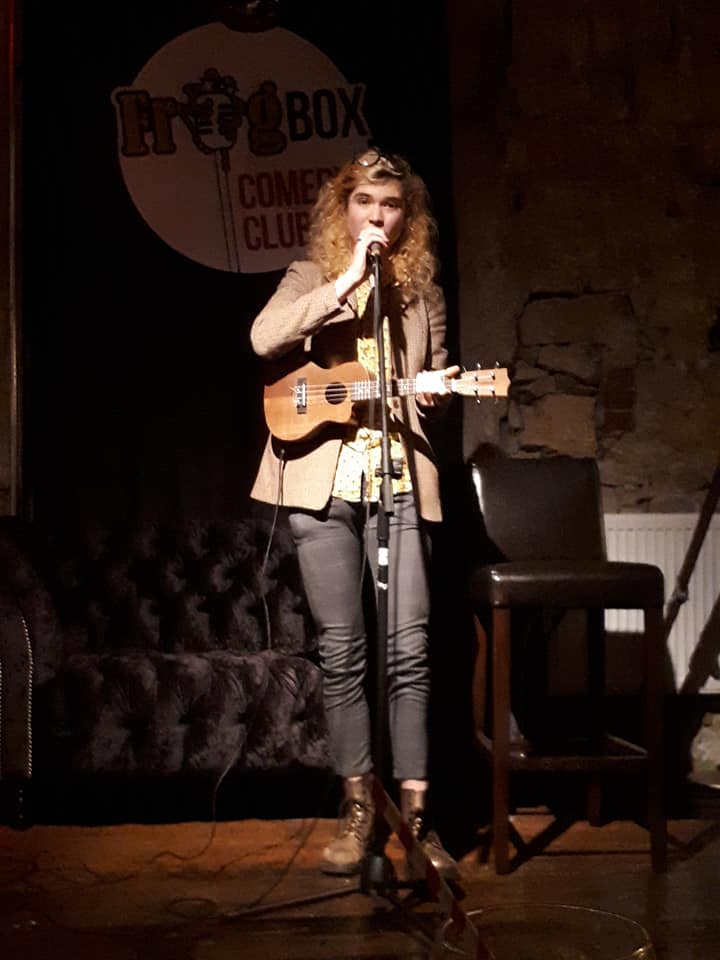 Isaac Hughes-Dennis is a politi-folk comedy musician and occasional magician who combines eloquent wit, upbeat tunes and bold political statements for the pleasure and entertainment of any given audience.
Described as 'Tim Minchin on steroids' and 'The most un-politically correct young person', Isaac Hughes-Dennis is not one to be missed.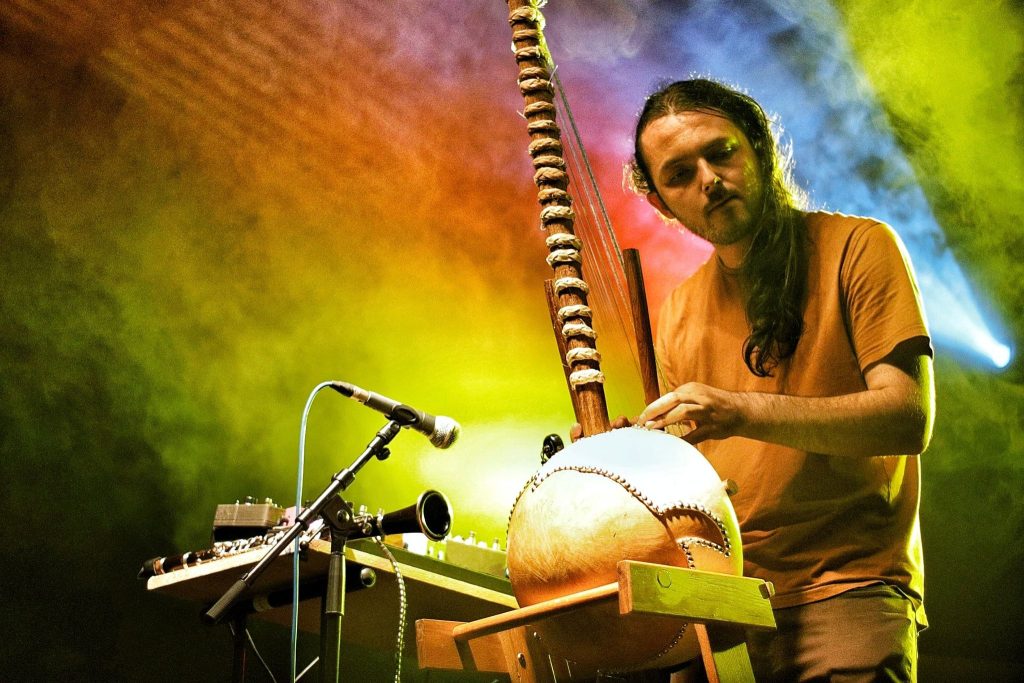 John Haycock is a multi instrumental live looping artist passionate about affecting acoustic sounds with electronics exploring new sonority. John takes his home made kora (21 string African Harp) and runs it through a series of electronic devices creating lush soundscapes and solid beats and overlays it with woodwind instruments, bridging the gap between ancient West African Folk melodies and modern electronica, visiting influences from hip-hop to house to dub along the way. John has been studying kora closely under the master Gambian Griot Jali Nyonkoling Kuyateh for several years having also spent time in West Africa absorbing the culture. Since embarking on the journey John has appeared around the world in varying manifestations including Manchester International festival and Manchester Jazz Festival.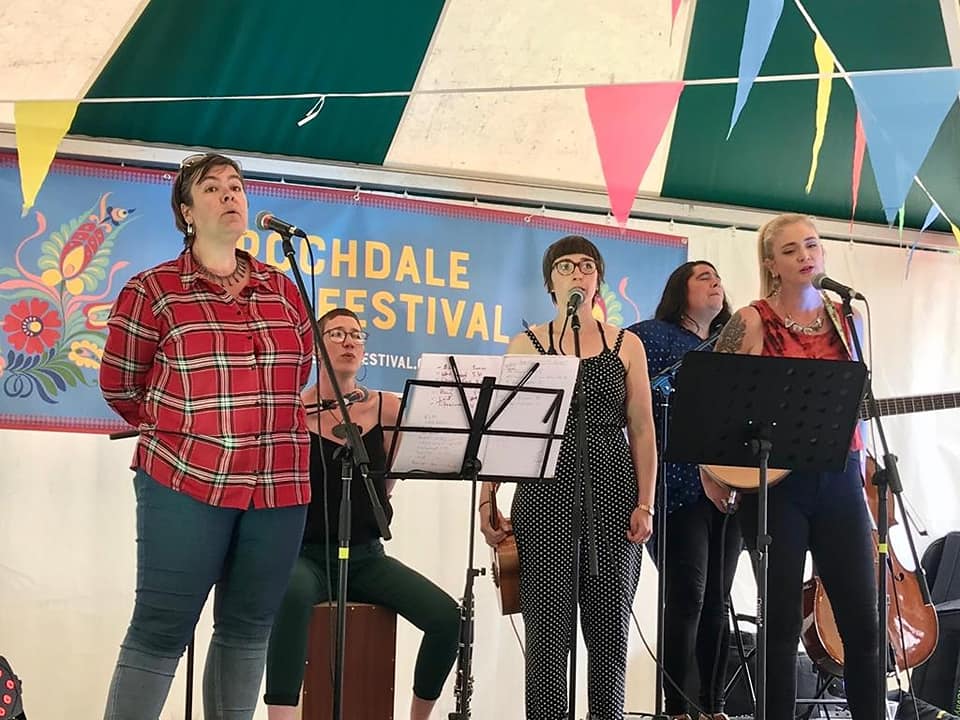 The Muthers are formed of five women from Todmorden and Hebden Bridge. They mix a variety of instruments and close vocal harmonies to create their own versions of folk songs and so much more!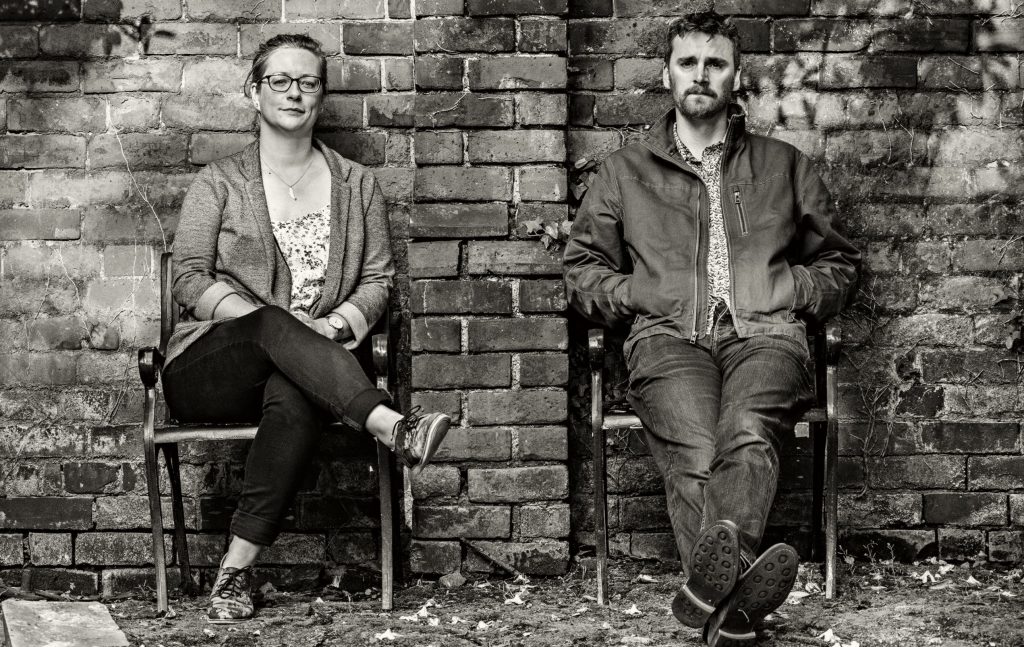 Frank is a story-teller, songwriter,and guitarist. A lover of folk, blues and intelligent songwriting His rambling anecdotes aim to give the audience more connection with his songs. Songs that convey his busy thoughts on life and his persistent frustration with mankind. The latest album 'Silvereye', named after the beautiful small bird of NZ (released 10/9/21) is his most intimate, sentimental and personally revealing album yet. Introspective, extremely indulgent but also crucial for some mental sanity.
Frank, along with his partner Kara and his NZ based ensemble, has toured extensively through NZ, Australia, Canada, Ireland And The UK and in 2019 the band were awarded the Vodafone NZ Music Award (Tui) for Best Folk Artist.
Frank and Kara then moved to Manchester at the start of 2020 – shifting the band from a full ensemble to a duo.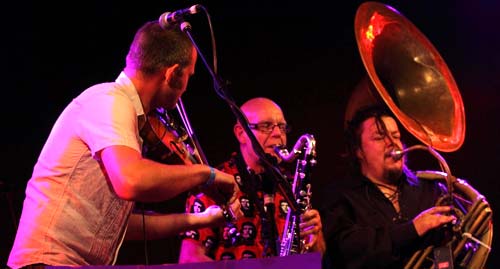 Red Hippo is Peadar Long, Daz Jones and Simon Chantler. They play saxophones, sousaphone, fiddle, whistles, bass clarinet, stompbox, flute, and even the highland bagpipes.
Red Hippo are a truly unique trio, who combine Jazz, Folk and World music to create compositions which are accessible yet challenging. Red Hippo take the listener on instrumental journeys influenced as much by Swedish traditional folk music as by New Orleans Second Line Jazz, Reggae and Dub.